Saturday, November 20th (6:00 PM EST Main Card, 3:00 PM EST Prelims)
Pat Sabatini vs. Tucker Lutz
WATCH – Two prospects undefeated in the UFC and in the incredibly stacked division of featherweight. Sabatini is a monster on the ground. In his last fight he submitted his opponent with a heel hook while his opponent was trying to leg lock him. Lutz has incredible striking pace pushes his opponents on their back foot. Prospect vs Prospect, Wrestler vs Striker, tales as old as time!
Rafa Garcia vs. Natan Levy
WATCH – Finally the undefeated Israeli fighter Natan Levy makes his debut in the UFC. And against an absolutely garbage opponent.
Loma Lookboonmee vs. Andrea Lee
BATHROOM BREAK – Let me describe to you the IDEAL prospect. 25 years old. Only wins by decision. Shoots for takedowns just to immediately let their opponent back up once they hit the ground. Always advancing yet never throwing a punch. If only every prospect was as great as Loma!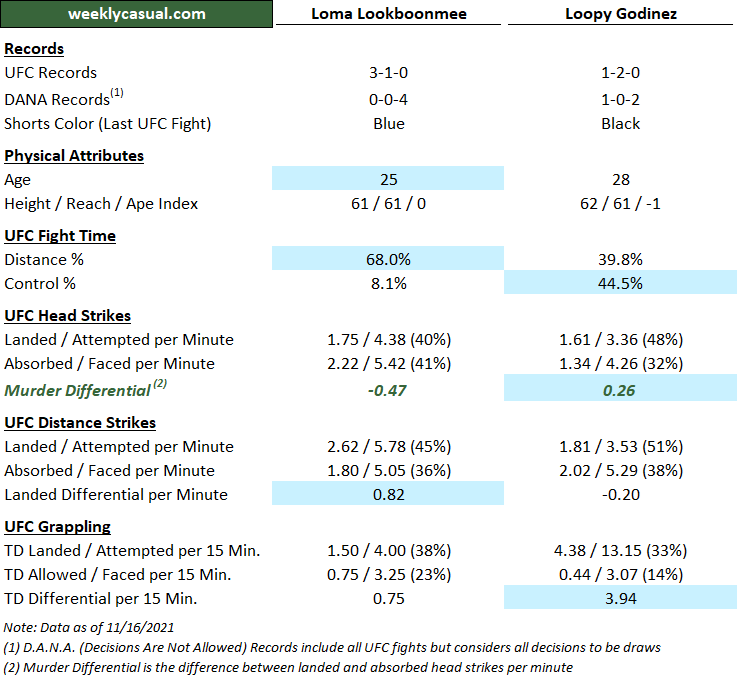 Terrance McKinney vs. Fares Ziam
WATCH – Boom, Terrance McKinney's opponent hits the floor from a single KO punch. Boom, Terrance McKinney's knee is shattered after failing to land a backflip off the cage celebrating his UFC debut victory. Pure and utter chaos, all in the manner of a minute. Let's hope that chaos continues this Saturday! Fares Ziam is okay I guess.
Cody Durden vs. Aoriqileng
WATCH – Yes, I would've bathroom breaked this fight if it wasn't men's flyweight. So you caught me! Hope you feel real proud of yourself.
Shayilan Nuerdanbieke vs. Sean Soriano
BATHROOM BREAK – Who's worse? Who cares?
Luana Pinheiro vs. Sam Hughes
WATCH – Pinheiro won her debut by finish in the first round! She pulled off the greatest debut finish of all time by perfectly placing her head in position to be knocked unconscious by an illegal upkick. I don't know about you but I am on the edge of my seat with excitement for how she's going to up that in her next fight. Maybe this fight she'll win Aljo style with a knee to her head while she's on the ground! Or she'll receive some vicious 12-6 elbows! The hype train just can't be stopped!
*Nothing contained in this post is financial advice, please bet at your own risk